Peninsula Dance Academy Performances
Our students are in two performances each year: The Nutcracker in December and a summer performance in Spring. Performance Fee includes two complimentary tickets.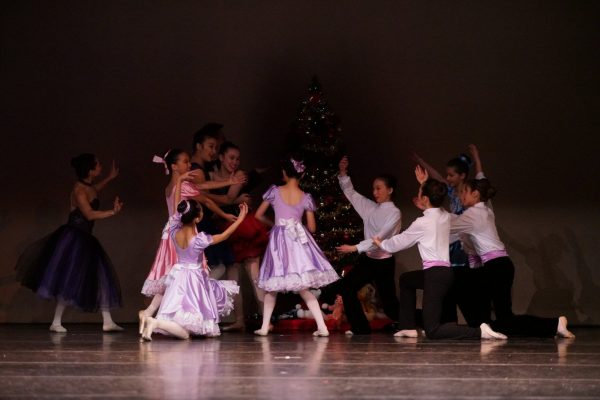 Student Performance Dates
Tuesday, May 19 - Dress Rehearsal at Bayside Theater
Wednesday, May 20 - Performance at Bayside Theater
FREQUENTLY ASKED QUESTIONS
All students can participate–and virtually all do. Exceptions are when students just enrolled in our studio, they are injured, or miss too many classes to learn the dances.
In our last performance, 68 students danced, from every class level. Ages ranged from 4 to adult.
We hire professional dancers to perform solos and duets. Past dancers have been from Silicon Valley Ballet and Bay Pointe Ballet.
Heba makes the final decision.
Two. Nutcracker in December, and a unique ballet in May or June. Both feature Heba's original choreography.
Yes. Students look forward to the shows. They meet and watch fellow students dance, both older and younger. They learn how a performing arts production comes to fruition–through teamwork and cooperation. Everyone counts on everyone else.
$115 for the first dance a student performs, $45 per additional dance. Performance fee includes 2 tickets per student.
This varies by class level. Pre-Ballet I is always in one dance.
Pay the performance fee. Ask us to process the fee on your PDA account. The performance fees and costume fees are nonrefundable.
Use it again but make sure it still fits!
Yes. For students in Pre-Ballet II and up, costume rental fees can vary but typically are $55 per costume.
2 tickets come w/ each student's performance fee. We hand them out at rehearsal.
PDA online store (through your account), in the studio, at the rehearsals, the night of the show. You can also email us and request tickets, and we can process the payment online. Pick up tickets at studio or will-call performance night.
$25 adult, $15 child 4-17 yrs
Yes, a few, including a dress rehearsal in the theater.